Vakuumlyft
Inomec has a wide assortment of vaccuumlifts for glass, panel and rocks.
Contact us for consultation.
Vacuum Lift
Capacity of 320kg on 4 suction cups and 635kg on 8 suction cups. A lot of nice features with tilt and radio control.
Vacuumlift for panelwalls
Capacity 375kg. Is usually used for handling sandwich panels but can also be used to handle glass.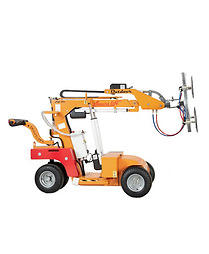 Glasrobot Smartlift
Ideal and versatile machine. Smartlift has wide wheels for more stability, increased passability and to minimize the risk of getting stuck. Can be mounted with a hook for temporary smaller lifts.